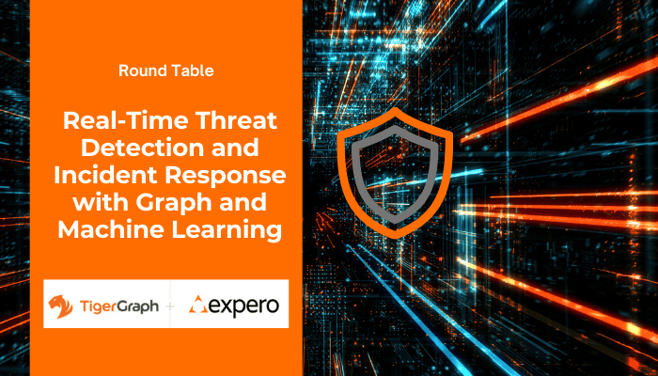 REAL-TIME THREAT DETECTION AND INCIDENT RESPONSE WITH GRAPH ANALYTICS AND MACHINE LEARNING
Recorded December 16, 2021
2021 has given rise to sophisticated ransomware-style attacks and increased cyber threats. Organizations are fighting the onslaught of threats from inside, from known threat actors, nation-states, etc.
This virtual round table will focus on how machine learning and graph analytics work together to increase threat detection accuracy, decrease alert fatigue and false positives.
With automation, security analysts can focus on the events that really matter. In addition, enhanced threat response management satisfies compliance demanded by regulators. Automation of threat analysis is key to your SOC teams' success.
Hosted by experts from TigerGraph and Expero, this webinar covers:
New reporting rules for cyber security and other impacts on compliance

How to utilize watch list data and breach data in real-time with new technologies like master data matching, graph analytics, and machine learning.

Capabilities in visualization and human intelligence technologies that will increase throughput and provide valuable data analytics.

How to implement practical methods of cyber identification, complex dependency and case management using "human-in-the-loop" technology for higher accuracy and process streamlining
Watch now!