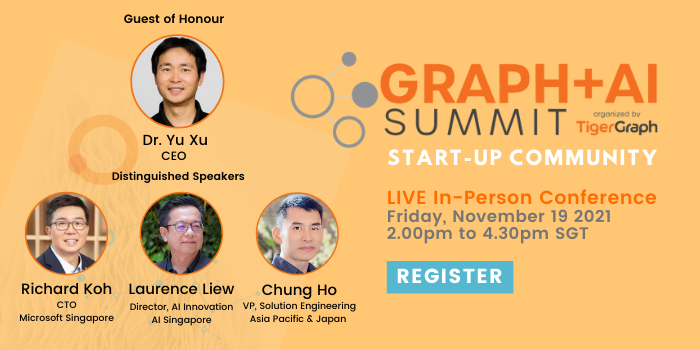 JOIN US FOR GRAPH + AI SUMMIT
START-UP COMMUNITY
Friday November 19, 2021 - Singapore 2:00pm
Join us for Graph + AI SUMMIT START-UP COMMUNITY 2021, the industry's only open conference for accelerating analytics and AI with Graph.
The Graph + AI Summit Singapore is our first APJ's start-up community conference on November 19 at Grand Hyatt Hotel, Singapore.
Key Topics
Graph - The Future of Data Management for AI/ML
Guest of Honour:
Dr. Yu Xu, CEO, TigerGraph
Distinguished Speakers:
Laurence Liew, Director, AI Innovation, AI Singapore
Richard Koh, CTO, Microsoft Singapore
Chung Ho, VP, Solution Engineering , TigerGraph APJ
Register now for free to join us.