HOW TO Confirm employment
Employees can be verified using TriNet "The Work Number" to provide automated employment and income verifications. You, the verifier, benefit by receiving immediate access to information that is convenient, accurate and secure. The Work Number information you need to get started is listed below: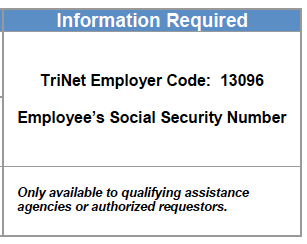 "Commercial" Verification
Standard employment and income verifications are commonly referred to as commercial verifications. A verifier can be any lending institution, property manager or other business that need to verify employment or income.
Income Verifications Require a Salary Key
The Work Number requires that verifiers have employee authorization to access income information. This allows the employee control over who has the ability to pull their income. If an income verification is needed, the employee may need to log in to The Work Number to access a salary key which may be requested by your verifier.
Employment Only Verifications Receive:
 Employer Name (Client Name)
 Employee Name
 As of Date (Data pull parameter)
 Most Recent Hire Date (TriNet)
 Original Hire Date (TriNet)
 Job Title
 Employment Status
 Inactive Date (if applicable)
 Length of Time With Employer (TriNet Client)
Employment & Income Verifications Receive:
 All Employment Only Verification Information
 Current Pay Rate
 YTD Gross Base Pay
 YTD Gross Over-time Pay
 YTD Gross Bonus Pay
 YTD Gross Commission Pay
 YTD Gross Other Income
 YTD Total (Note: 5 years of YTD information available).